This article is about writing PICOT nursing questions. Study it to learn how to write PICOT nursing questions and gain insights into how you can get expert PICOT question writing help.
Writing PICOT Nursing Questions
There are five main components to an excellent clinical question. Patient/Problem, Intervention, Comparison, Outcome, and Time/Type of Question/Type of Study are the five principal elements. Researching appropriate data in the absence of a well-developed clinical question may be challenging and time-consuming. PICOT (sometimes termed PICO) is a specific framework that assists you in formulating your clinical inquiry. PICOT assists you in locating the most useful information from recent studies. PICOT is frequently used in evidence-based nursing. In most healthcare settings, evidence-based nursing is slowly but steadily becoming the norm. This article was created to help you realize that creating PICOT nursing questions isn't rocket science.
What do the Initials in PICOT Stand for?
P is for Patient or Population. I is for Intervention or Indicator. C stands for Control or Compare while O is for Outcome. Finally, T is for Time, Type of study, or Type of Question.
When thinking about P, consider who your patients are. What features distinguish them? They might be Latino men, African-American women, or Caucasian men. Take notice of their age. Their geographical location might also have an impact.
Your illness or condition management approach is defined by the intervention or indicator. It also refers to the diagnostic tests or exposures to which your patient group will be exposed.
The exact management plan with which you compare your intervention or indication is known as control or comparison.
The term "outcome" refers to the precise, patient-relevant outcomes you expect from your intervention.
Ask yourself, "What precise time period do I consider?" when it comes to Time or Type of Study. Which clinical domain does my query fall under? What research is the most likely to provide the data and information I require? A question may lack T or another component on occasion.
Make sure your PICOT nursing questions include at least three of the five components of a well-formed clinical inquiry when creating them. In most questions, the only things you can leave out are time and comparison.
Writing PICOT Nursing Questions.
Here is an example PICOT question
Do text message reminders (I) performed regularly on patients diagnosed with diabetes type 2 (P) lead to reduced chances of forgotten insulin (O) doses over a period of the next six months (T) of treatment compared with no text message reminders (C)? The question includes all five components of an effective clinical question.
PICOT nursing question writing might look formulaic, and it is to some degree. However, once you've mastered it, getting it properly becomes second nature. Many nursing students have asked for assistance in preparing their PICOT questions. Most of our customers, on the other hand, rapidly learn how to formulate these queries. Such customers move on to more difficult concerns.
The Aim of this Writing
This resource was created to assist you to gain confidence as you generate clinical questions now and in the future. Evidence-based nursing, which is quickly becoming the standard in many healthcare settings, is driven by PICOT inquiries. We'd want to add to your knowledge on how to write PICOT nursing questions in some manner.
We'll demonstrate how to create effective PICOT questions. Is there a better method to accomplish that aim than to create a few PICOT questions while watching? We hope that at the end of this article, you will have gained more confidence as a student nurse. Knowledge instills confidence, which in turn leads to better achievement. In the end, you'll see that composing PICOT nursing questions isn't as difficult as you may have imagined.
Finally, we'll provide you with a variety of templates to help you prepare your PICOT questions. We expect you to master writing PICOT nursing questions and tell a friend or two about us in exchange for this gift. Doesn't it seem like a good bargain to you? However, you are under no obligation to recommend us to your friends or anybody else. We are here to help. Everything else is secondary to our reason for being.
Writing PICOT Nursing Questions.
7 Different Types of PICOT Questions
As a student nurse, you should be aware of the seven various kinds of PICOT inquiries. Therapy, prediction/prognosis, prevention, intervention, diagnosis, Etiology, and purpose or quality of life concerns are among the topics covered. We'll take a quick look at each of these PICOT questions in the hopes of improving your comprehension. We'll provide you with an example to follow when phrasing your queries after we explain each one. Let's get started.
1. Therapy Questions
Therapy questions assist you in selecting treatments that benefit your patients more than they damage them. You must first ask one important question before you can employ treatment questions. The issue is whether the result of these inquiries is worth the time and expense.
Here's a template to guide you as you develop a therapy type question:
In ­___________ (P), does/do ______(I) result in ______ (O) when compared with________ (C) over___________ (T)
Here is an example:
In nursing home residents suffering from osteoporosis, do hip protectors result in reduced injuries from falls, slips, and trips when compared with drug therapy for osteoporosis over the duration of their stay there?
2. Diagnosis Questions
Diagnosis questions try to figure out what kind of sickness or damage you have. Through clinical assessment, these queries also try to determine the source of sickness or damage.
Here's a template you can adopt:
Is/Are__ (I) ____ performed on __ (P) __more effective than __(C) ____ over ___ (T) __ in ___ (O) _____
Look at this question here:
Are parent reports and self-reporting interviews performed on children from ages 5–10 more effective than parent reports alone over a month-long consultation process in diagnosing depression?
Writing PICOT Nursing Questions.
3. Etiology Questions
Etiology questions, like diagnostic questions, seek to determine the genesis or source of a condition. That's not all, however. Etiology inquiries pinpoint the elements that are most likely to lead to a propensity to a certain ailment or disease.
Here's a template you can use:
Are __(P)____with___(I)____ over __(T)____ more likely to ___(O)___ when compared with_(C)_____?
Example PICOT question:
Are non-smoking females exposed to secondhand smoke daily over a period of ten years or longer likely to develop breast cancer when compared with non-smoking females not exposed to secondhand smoke daily?
4. Prognosis or Prediction Questions
Prognosis inquiries try to anticipate how an illness may progress.
Here's a standard PICO question template:
Does __(I)_____ influence____(O)___ in patients who have __(p)___ over _(T)___?
Or,
In ___(P)____, how does __(I)____ compared to __(C)___ influence __(O)____ over __(T)__?
Does the telemonitoring of blood pressure in African-Americans with hypertension in urban areas improve the control of blood pressure over a period of six months after the commencement of the medication?
Or,
In patients aged 64 and above, how does the administration of influenza vaccine compared with no influenza vaccination influence the risk of getting pneumonia over the flu season?
Writing PICOT Nursing Questions.
5. Prevention Questions
Prevention questions deal with how to limit the incidence of illnesses by detecting and changing risk factors, as the name implies. Furthermore, prevention concerns how to identify problems as soon as feasible.
Here's your PICOT question template:
In ___(P)____, do or does ___(I)____ result in __(O)___ when compared with __(C)____ over ___(T)____
Example PICOT question:
In individuals who visit emergency rooms, do hand sanitization stations result in reduced hospital infections when compared with no hand sanitization stations over a 12-month pilot period?
6. Intervention Questions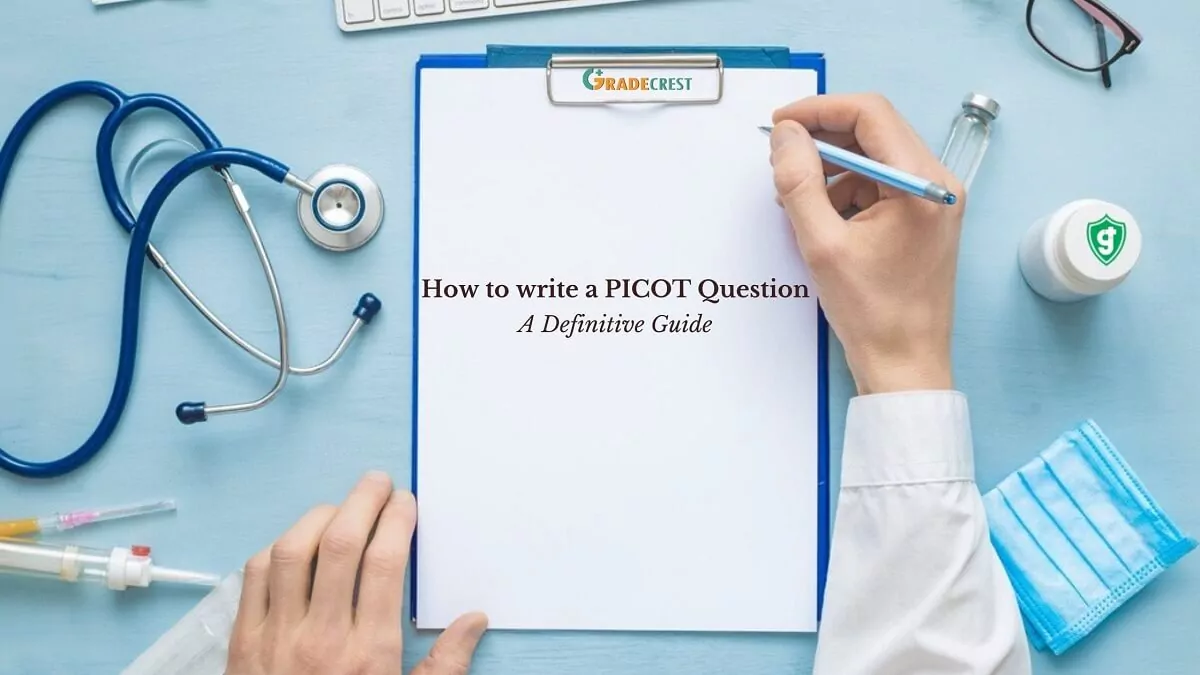 The treatment of an illness or impairment is the subject of intervention questions.
PICOT question templates:
In __(P)__, what is the effect of __(I)__ on __(O)___ compared within_(T)_?
Or,
In _ (P) ___, how does/do _ (I) ___ compared to __(C) ____ influence/affect __ (O) ___ within _ (T) ___
Here is an example PICOT Question:
In Latino male teenagers with hepatitis B, how does Ibuprofen compared to acetaminophen affect the functioning of the liver?
Notice that we've chosen to ignore T in this intervention question. Remember: clinical questions can either be PICO or PICOT. You don't always have to include T.
Writing PICOT Nursing Questions.
7. Meaning or Quality of Life Questions
These kinds of questions are concerned with how a patient perceives a certain occurrence.
Template:
How do __(P)____ diagnosed with ___(I)___ perceive __(O)___ during __(T)___ ?
Here's an example PICOT question:
How do pregnant women just diagnosed with diabetes perceive reporting details of their blood sugar levels to their healthcare providers during the pregnancy period and six weeks after delivery?
That's it. You've learned that writing PICOT nursing questions is pretty easy. We're sure Writing PICOT nursing questions isn't an area you'll need to consult us on ever again. But hey, you're free to talk to our nursing and medical experts as often as you want. With a complete understanding of how to formulate clinical questions, you'll likely enjoy evidence-based nursing more than you ever have.
Final Thoughts
Do you need assistance writing PICOT nursing questions? You should probably stop looking for help right now. Our highly qualified nursing and medical professionals are eager to assist you. All of our employees are nursing or medical school graduates, and they only write in those fields.
If you need general guidance on writing PICOT nursing questions or any other issue, you may speak with anybody. Contact us, however, if you want specialist help with a challenging issue in nursing, medicine, or psychology. Our pricing is really competitive. The sample is always excellent. Contact us right now to make your purchase and learn more.
Related Searches
1. Nursing PICOT question examples…
2. What is a PICOT question…
3. Examples of clinical questions in nursing…
Read More On
PICO Research Question on Dental Hygiene